AIR CONTROL [India] Pvt. Ltd. PUNE, India

AIR CONTROL, today, is a name which stands for quality, consistency and technical support in the HVAC field. A name trusted by many corporates and multinationals as a true performer in any given conditions. Incorporated in1982 to cater the needs of the growing climate control industry in India. It has emerged today as a market leader in association with CARRIER for the turn-key offshore, Marine & Industrial projects in HVAC and Refrigeration filed. Because of our quality assurance proven products, excellent after sales services, we have been rewarded with repeated orders from most of our clients.
5F, 5H Compressors
5K & 6G compressors
High capacity and Maximum Efficiency with R-22 and R134 a refrigerants

unselect all/select all
You have 0 products selected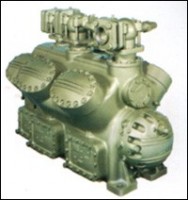 The 5F, H Line of open compressors combines economy and dependability in twelve single compressor sizes. They're the most widely used compressors for refrigerated food storage and processing… equally efficient for air conditioning.